Personal Economics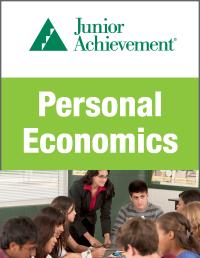 This program is administered by JA of Northern Nevada
Implementation:
Classroom Based
Pillars of Student Success
Financial Literacy
High Financial Literacy
Entrepreneurship
High Entrepreneurship
Work Readiness
High Work Readiness
Activity One: Marketing Yourself: The students recognize their role in the U.S. market system.
Activity Two: Identifying Your Skills and Interests: The students identify personal skills and interests, and relate them to various careers.
Activity Three: Job Opportunities: The students discover the steps involved in finding a job. They read employment ads, and practice filling out a job application. They discuss the value of jobs and volunteer experiences to their future career plans.
Activity Four: Job Interviews: The students discuss the characteristics employers want in potential employees, especially those characteristics that go beyond the basic knowledge and skills needed to perform the job. They observe and evaluate successful and unsuccessful interviews, and they review a list of interviewing suggestions.
Activity Five: Personal Budgeting: The students work in small groups and use hypothetical information to develop a personal budget for a teen-ager. They learn the reasons for creating a budget and the basic features and characteristics of all budgets.
Activity Six: Family Finances: The students discuss financial planning and budgeting. They create a budget in which they establish priorities, and estimate costs based upon expected income and expenses.
Activity Seven: Paying the Bills: The students are introduced to financial institutions. They discuss the use of checking accounts, and practice writing checks.
Activity Eight: Using Credit Wisely: The students discuss the advantages and disadvantages of using credit to make everyday purchases. In small groups, the students examine a credit card statement.
Activity Nine: Stock Market: In the first of two activities about the stock market, the students explore the stock market as a way to add value to the money they have made in the marketplace.
Activity Ten: Analyzing Your Investments: The students sell their stock from the previous activity and determine whether they made or lost money.
Skills – Analyzing information, Analyzing situations, Budgeting, Building self-esteem, Charting, Conceptualizing and designing, Critical thinking, Decision making, Filling out forms, Following directions, Formulating a plan, Interpreting information, Interviewing, Listening responsively, Making observations, Mathematical interpretation and computation, Problem solving, Role playing, Teamwork.
Personal Economics
is a series of eight to 10 activities and is recommended for students in the middle grades. Materials are packaged in a self-contained kit that includes detailed activity plans for the volunteer and workbooks for 32 students.
Alignment with State and National Standards
Request a Presenter to Teach Curriculum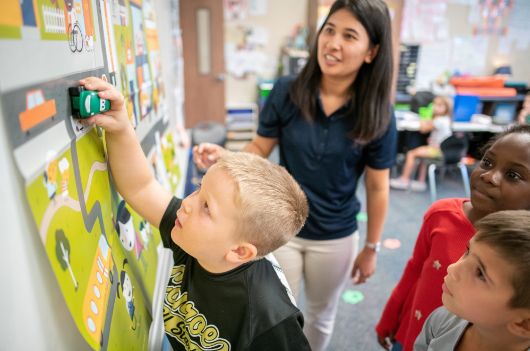 Junior Achievement lessons are delivered by volunteers from the community. These presenters are prepared by JA to facilitate engaging learning activities that focus on financial literacy, work and career readiness, and entrepreneurship. This results in an enriched learning experience that helps students make the connection between what they learn in school and the world outside the classroom.
Steps to Request a Presenter

1) Request Info
Once you've decided to have a JA volunteer in your classroom, fill out the form on this website. You will receive information on next steps.
2) Pick Schedule
You will be able to coordinate a schedule that works for your class either online or in conjunction with a JA representative.
3) Meet Presenter
Once a volunteer is identified for your class, JA will connect you with the presenter to discuss roles, expectations, and logistics.
4) Empower Students with Standards-Based Education
After all details are in place, the JA volunteer will deliver lessons to your students either virtually or in-person.
We use cookies to provide you a personalized experience. How we do this is by analyzing user behavior on our site and sharing data with our advertising and analytics partners. You consent to our cookie policy if you continue to use this website.